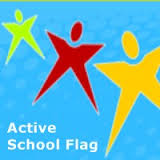 Here's some information about the Active School's flag that our school is aiming for. A flag will be awarded to our school if we meet certain criteria. A list of Physical Education goals, Physical Activity goals, Partnerships with local clubs and the activities we plan for Active School Week will be assessed and judged, and if successful we will receive an Active Flag.
Why do we believe this to be of benefit to our pupils?
Research shows that active children
-concentrate and learn better
-present fewer discipline problems
-achieve higher test results
-enjoy school more.
Research also shows that "all children require 60 minutes minutes moderate to vigorous physical activity EVERY day."
Unfortunately 80% of Irish children DO NOT reach this target.
Our school motto for the Active Flag is "Get in the groove and start to move"
We get a 15 minute and a 30 minute break at school. We strive to encourage all pupils to move in some way during break times. We have a soccer area, a skipping rope area and a "Walk and talk" lane.
In both buildings, we are undertaking a walking challenge. The distance from Gort to Galway (38kms) is our challenge, and each class walks laps of the yard to fill in the grids on our charts.
We will keep you informed of the exciting activities planned to keep us moving!
For more information regarding this program you can click on link below to be redirected to the Active Schools Flag website
 You can also click on the second link to be redirected to videos explaining the program also.